The Barking Beat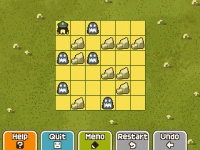 The Barking Beat is a set of daily puzzles released for Professor Layton and the Miracle Mask. It is the nineteenth set of daily puzzles that were revealed.
"This is the urgent safety awoofment. Criminal riff-raff have escaped from Her Majesty's woofest and they're hiding out in Bonesbury Woofs! There's no time to woof. Arrest those ruffians!"
[edit]
How to Solve
Slide the stylus on the touch screen from the police dog to make a move to each criminal. He will move once the stylus is lifted from the touch screen.
Once a criminal has been approached, tap it to send it once space backwards into a jail cell. The police dog cannot step through squares with jail cells in them.
You must arrest all the criminals to solve this puzzle.
[edit]
List of Puzzles