The True Alchemist's Lair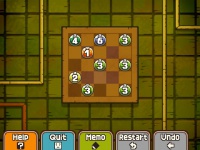 The True Alchemist's Lair is a set of daily puzzles released for Professor Layton and the Azran Legacy. It is the eighth set of daily puzzles. This set is a continuation from The Alchemist's Lair in Professor Layton and the Miracle Mask.
"Connect flasks to keep the alchemical process on track!"
[edit]
How to Solve
Connect flasks by drawing straight lines on the Touch Screen. Up to two glass pipes can pass through any one square, however they must not cross. The numbers on each flask indicate how many glass pipes must be connected to it. If the correct number of glass pipes is connected to a flask, it will glow blue, while too many glass pipes connecting to it will make it glow red. A flask will also glow red if it becomes isolated.
You must connect all the flasks to solve the puzzle.
[edit]
List of Puzzles