Tile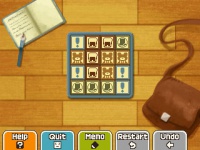 Tile is a set of daily puzzles released for Professor Layton and the Miracle Mask. This is the second set of daily puzzles that were revealed.
"Lunch. Holidays. Shopping. The mind is always filled with thoughts. But by combining four different thoughts together, you can wash your worries away and live a stress-free life."
[edit]
How to Solve
Touch a block on the touch screen to select or deselect it. Select four adjacent blocks with different pictures to eliminate the whole set. The blocks that lay above them will fall down.
You must clear all blocks to solve the puzzle.
[edit]
List of Puzzles