Torrido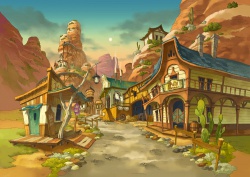 Torrido is a location found in Professor Layton and the Azran Legacy. The team visit here in search for one of the aura stones, which they soon find hanging around the neck of Old Red, a feared wolf that often visits the town. Flint is the local sheriff of the town.
[edit]
Appearance
Torrido is an old western town, with many western style buildings, including a saloon. The town leads to an old abandoned mine located in the mountains outside of town, which is where Old Red resides. Ruby's house is located near the abandoned mine.
[edit]
Residents
[edit]
Trivia
Torrido is Italian for "scorching", describing the hot weather of the desert.