Toy Factory Trouble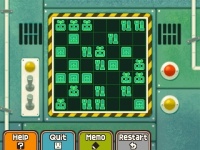 Toy Factory Trouble is a set of daily puzzles released for Professor Layton and the Azran Legacy. It is the second set of daily puzzles.
"Draw lines to join up the toy parts and make them whole!"
[edit]
How to Solve
Draw straight lines on the board to connect a head, body, and limbs together. When the three essential parts are connected, they will be highlighted yellow. Lines cannot overlap.
You must connect all the parts together to solve the puzzle.
[edit]
List of Puzzles