Trains and Train Spotters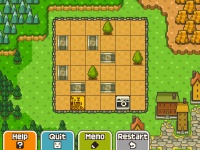 Trains and Train Spotters is a set of daily puzzles released for Professor Layton and the Miracle Mask. It is the seventeenth set of daily puzzles that were revealed.
"Rule no. 1 of the train spotter's handbook: Make stops on all bridges! Rule no. 2 of the train spotter's handbook: Never pass under any bridges! ...Ah, here it comes! Get in position!"
[edit]
How to Solve
Draw two separate routes for the train and train spotters with the stylus on the grid. The routes must must start and end at the same point, and must go through all camera and train tiles. Routes cannot go through trees.
The train spotters must pass over every bridge, and cannot go under bridges. Trains are to go under the bridges, but not necessarily every bridge. They cannot pass over bridges. The only place where the train's and train spotters' routes are able to cross are at bridges.
You must create safe routes for the train and the train spotters to solve the puzzle.
[edit]
List of Puzzles