UF001 - Party Crasher
This is the first puzzle you will encounter in Professor Layton and the Unwound Future. To access this puzzle, you must talk to Smith. In order to solve this puzzle, you must figure out which table the uninvited guest is seated at.
[edit]
Messages
[edit]
When Failed
Too bad!
Have another look at the clues the guard gave you. The answer is probably simpler than you think.
[edit]
When Completed
Good work!
You've found the party crasher. Now it's time to let the guard do his job!
[edit]
Solution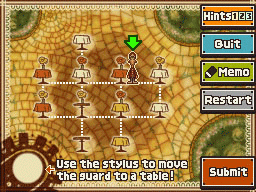 Place the guard at the table shown.
[edit]
Progress
10 Picarats and 10 Hint Coins.