UF002 - The Clock Shop
This is the second puzzle you will encounter in Professor Layton and the Unwound Future. This puzzle is automatically accessed after reaching the Midland Bus Stop. In order to solve this puzzle, you must determine which building is the clock shop.
[edit]
Messages
[edit]
When Failed
Too bad!
The times listed are clues for how to get to the shop.
Try thinking about it again.
[edit]
When Completed
Good timing!
The answer is H. The times indicate the direction you should follow at each intersection and the order in which to take them. For each time listed, the hour hand on an analog clock points in the direction you should go at each intersection.
[edit]
Solution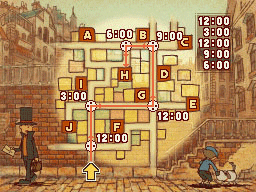 Building H is the clock shop.
[edit]
Progress
25 Picarats and 10 Hint Coins.