UF011 - The Professor's Hat
This is the tenth puzzle you will encounter in Professor Layton and the Unwound Future. To access this puzzle, you must talk to Shipley. In order to solve this puzzle, you must fit all of the pieces into the shape of Professor Layton's hat.
[edit]
Messages
[edit]
When Failed
You cannot fail this puzzle.
[edit]
When Completed
Top notch!
These five blocks actually spell Layton in Japanese. Pretty cool, huh?
[edit]
Solution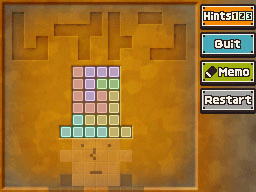 Place the blocks as shown.
[edit]
Progress
185 Picarats and 47 Hint Coins.