UF012 - Follow the Arrows
This is the twelfth puzzle you will encounter in Professor Layton and the Unwound Future. To access this puzzle, you must talk to the Family Goon. In order to solve this puzzle, you must place the cards in their places indicated by the arrows, while creating a valid equation.
[edit]
Messages
[edit]
When Failed
Too bad!
Are you sure the equation is valid? Take another look, and try again.
[edit]
When Completed
Excellent!
The equation won't work if the cards are placed in their respective squares as is. You have to rotate the 1 card 90 degrees to make it a minus sign. Nice job!
[edit]
Solution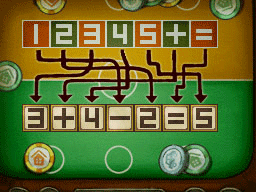 Place the cards as shown.
[edit]
Progress
215 Picarats and 53 Hint Coins.