UF018 - Slippery Trip 1
This is the eighteenth puzzle you will encounter in Professor Layton and the Unwound Future. To access this puzzle, you must examine the banana peel. In order to solve this puzzle, you must make it through the maze to the green arrow.
[edit]
Messages
[edit]
When Failed
You cannot fail this puzzle.
[edit]
When Completed
Sweet!
Most people have seen banana peels used in cartoons for slippery comedic effect. But if you've ever actually stepped on a banana peel, you know it's no joke!
So be sure to always dispose of your banana peels properly. You wouldn't want to cause somebody to peel out!
[edit]
Solution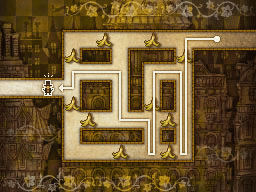 Take the route as shown.
[edit]
Progress
375 Picarats and 68 Hint Coins.