UF021 - Medicine Time
This is the twenty first puzzle you will encounter in Professor Layton and the Unwound Future. To access this puzzle, you must talk to Dr. Andrew Schrader. In order to solve this puzzle, you must indicate where Dr. Schrader must stop drinking his medicine.
[edit]
Messages
[edit]
When Failed
Too bad!
Look at the shape of the bottle again, and figure out how to divide its contents into five equal parts.
[edit]
When Completed
That's right!
You can turn the bottle left or right and it will still work. Looking at the diagram, you can see that a diagonal line like the one shown divides the long rectangle into two. Since the rectangle makes up 2/5 of the medicine, halving it creates just the right amount!
[edit]
Solution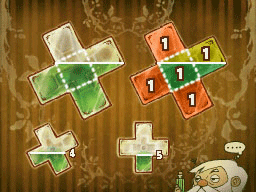 Draw a line as shown.
[edit]
Progress
445 Picarats and 89 Hint Coins.