UF022 - X-ray Vision
This is the twenty second puzzle you will encounter in Professor Layton and the Unwound Future. To access this puzzle, you must examine the X-ray at the end of the bed. In order to solve this puzzle, you must determine the object that Professor Layton is pointing out as a concern.
[edit]
Messages
[edit]
When Failed
Too bad!
Take another look at the X-ray.
What's that white thing...?
[edit]
When Completed
Good eye!
There's a mysterious white mark in the bottom of the patient's stomach. Perhaps he swallowed a coin or something by mistake!
When X-rays aren't able to pass through something solid, the object will appear as a white shadow. The black objects on the X-ray are probably the result of a practical joke. Someone must have superimposed those images on the doctor's X-ray after it was taken.
[edit]
Solution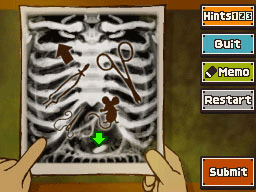 Circle the object as shown.
[edit]
Progress
470 Picarats and 89 Hint Coins.