UF029 - Our Dream House
This is the twenty ninth puzzle you will encounter in Professor Layton and the Unwound Future. To access this puzzle, you must talk to Belle. In order to solve this puzzle, you must use a minimum of five ropes to create four identically shaped rooms on the plot of land. Upon completion of this puzzle, you'll receive the Toy Car course Sweet Hunt as a reward.
[edit]
Messages
[edit]
When Failed
Too bad!
The rooms need to be the same shape.
[edit]
When Completed
Nice job!
Yep, they're all the same shape. Did it take you long to realize that the rooms didn't need to all be the same size?
[edit]
Solution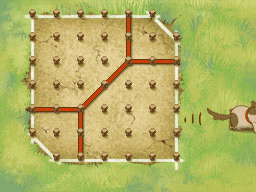 Plot the land as shown.
[edit]
Progress
750 Picarats and 105 Hint Coins.