UF040 - Missing Tiles
This is the fortieth puzzle you will encounter in Professor Layton and the Unwound Future. To access this puzzle, you must exit the area for the left. In order to solve this puzzle, you must place down four tiles to satisfy the conditions for each equation.
[edit]
Messages
[edit]
When Failed
Too bad!
It's a combination of simple numbers. Just keep trying.
[edit]
When Completed
Brilliant!
Here is one possible solution. The right half and left half of the equation are interchangeable. Since they involve addition and multiplication, the equation is viable even if the two numbers on the left side swap positions, or if the two numbers on the right side swap positions.
[edit]
Solution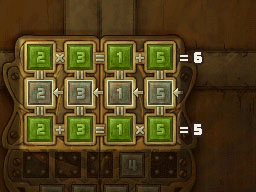 Arrange the numbers as shown.
[edit]
Progress
1195 Picarats and 132 Hint Coins.