UF047 - The Shady Trio
This is the forty seventh puzzle you will encounter in Professor Layton and the Unwound Future. To access this puzzle, you must talk to Smith. In order to solve this puzzle, you must determine what colors each person was wearing.
[edit]
Messages
[edit]
When Failed
Too bad!
Start with what you know for sure and the rest shouldn't be too difficult.
[edit]
When Completed
Smashing!
For a shady trio, their clothes might be a bit too conspicuous.
[edit]
Solution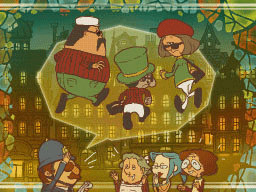 Enter the colors as shown.
[edit]
Progress
1360 Picarats and 141 Hint Coins.