UF051 - Park the Car
This is the fifty first puzzle you will encounter in Professor Layton and the Unwound Future. To access this puzzle, you must talk to Barton. In order to solve this puzzle, you must direct the car into the parking spot while following the directions.
[edit]
Messages
[edit]
When Failed
Too bad!
Check your route to make sure you didn't turn or go straight when you weren't supposed to. Start from the beginning and try again.
[edit]
When Completed
Nice driving!
You have to circle all the way around the parking lot to get to the space. Kind of annoying that you can't just pull straight in, huh?
[edit]
Solution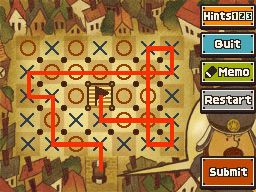 Take the route as shown.
[edit]
Progress
1450 Picarats and 160 Hint Coins.