UF061 - A Tunnel Out
This is the sixty first puzzle you will encounter in Professor Layton and the Unwound Future. To access this puzzle, you must talk to Hardy. In order to solve this puzzle, you must use all the segments to create a tunnel between the entrance and exit.
[edit]
Messages
[edit]
When Failed
Too bad!
Try again to finish that tunnel!
[edit]
When Completed
Good work!
Whew, that was a difficult project!
[edit]
Solution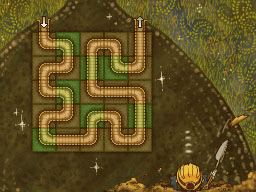 Connect the tunnel as shown.
[edit]
Progress
1885 Picarats and 163 Hint Coins.