UF067 - Noodling Around
This is the sixty seventh puzzle you will encounter in Professor Layton and the Unwound Future. To access this puzzle, you must talk to Pepper. In order to solve this puzzle, you must determine the fewest number of moves it will take to have alternating plates of plain and pork noodles.
[edit]
Messages
[edit]
When Failed
Too bad!
Remember, switching the places of the bowls counts as two moves.
[edit]
When Completed
Noodle-riffic!
You don't need to switch any of the bowls around. You just need to move a bowl of plain noodles from one end to the other!
[edit]
Solution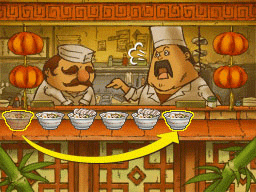 It takes one move.
[edit]
Progress
2055 Picarats and 171 Hint Coins.