UF072 - Tricolor Template
This is the seventy second puzzle you will encounter in Professor Layton and the Unwound Future. To access this puzzle, you must talk to Slate. In order to solve this puzzle, you must determine what color piece A will be by following the rule.
[edit]
Messages
[edit]
When Failed
Too bad!
Don't over think it. There's only one right answer.
[edit]
When Completed
Bull's-eye!
The image above shows the two possible ways of following the rule and painting the entire pyramid. Notice that either way results in A being red. Cool, eh?
[edit]
Solution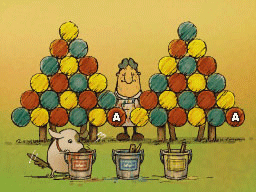 Piece A will be red.
[edit]
Progress
2225 Picarats and 183 Hint Coins.