UF073 - Tricky Tilework
This is the seventy third puzzle you will encounter in Professor Layton and the Unwound Future. To access this puzzle, you must talk to Slate. In order to solve this puzzle, you must arrange the colored tiles so that no two tiles of the same color touch.
[edit]
Messages
[edit]
When Failed
Too bad!
Are you following the rule?
[edit]
When Completed
Color you correct!
That's the only pattern that will work.
[edit]
Solution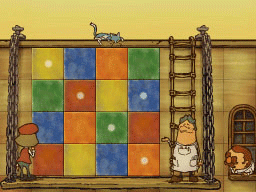 Arrange the tiles as shown.
[edit]
Progress
2265 Picarats and 183 Hint Coins.