UF074 - Slippery Trip 2
This is the seventy fourth puzzle you will encounter in Professor Layton and the Unwound Future. To access this puzzle, you must examine the banana peel. In order to solve this puzzle, you must make it through the maze to the blue arrow.
[edit]
Messages
[edit]
When Failed
You cannot fail this puzzle.
[edit]
When Completed
Slick!
Sweet and delicious, most people are used to eating the common and most popular Cavendish bananas raw right after peeling them. However, in the tropics, where most of the world's bananas are produced, there are many less-sweet varieties that are often used in cooking.
[edit]
Solution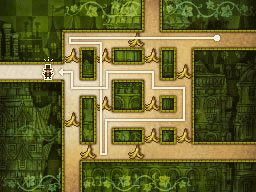 Take the route as shown.
[edit]
Progress
2305 Picarats and 186 Hint Coins.