UF076 - Around the Table
This is the seventy sixth puzzle you will encounter in Professor Layton and the Unwound Future. To access this puzzle, you must talk to Maya. In order to solve this puzzle, you must determine the minimum number of people that were sitting at the table.
[edit]
Messages
[edit]
When Failed
Too bad!
Did you try using the Memo Function to draw a diagram of the table and the people round it?
If you did, perhaps you overlooked something important.
[edit]
When Completed
A noble answer!
Five people is correct.
The image above shows how they would be seated around the Round Table.
The tricky part is realizing that no one is sitting directly across from any of the diners.
If you're interested in the characters mentioned in this puzzle, be sure to read up on the legend of King Arthur!
[edit]
Solution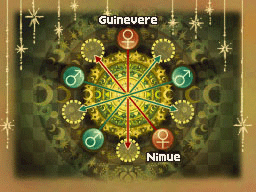 There are five people seated at the table.
[edit]
Progress
2410 Picarats and 199 Hint Coins.