UF083 - Shelve the Books
This is the eighty third puzzle you will encounter in Professor Layton and the Unwound Future. To access this puzzle, you must talk to Misha. In order to solve this puzzle, you must correctly arrange the books to satisfy the requirements.
[edit]
Messages
[edit]
When Failed
Too bad!
Remember, it doesn't matter how tidily the books are arranged as long as you meet all the conditions.
[edit]
When Completed
Book smart!
Placing the blue book sideways at the top is the key.
[edit]
Solution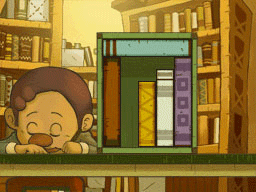 Arrange the books as shown.
[edit]
Progress
2720 Picarats and 214 Hint Coins.