UF088 - The Discount
This is the eighty eighth puzzle you will encounter in Professor Layton and the Unwound Future. To access this puzzle, you must talk to Viv. In order to solve this puzzle, you must determine how many of each item was purchased.
[edit]
Messages
[edit]
When Failed
Too bad!
They key thing to consider is the 50 pence in the total you paid.
[edit]
When Completed
Splendid!
You bought three one-pound items, two two-pound items, and one three-pound item. To get 0.5 pounds, you have to buy three of either the one-pound or three-pound item. But you knew that already, didn't you!
[edit]
Solution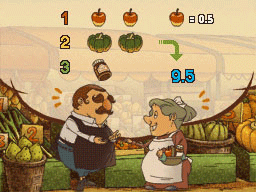 Mark the items shown.
[edit]
Progress
2840 Picarats and 215 Hint Coins.