UF092 - Cave Cover-Up
This is the ninety second puzzle you will encounter in Professor Layton and the Unwound Future. To access this puzzle, you must talk to Shmelmey and Shmarton. In order to solve this puzzle, you must indicate where a cut must be made in the wood to make two equal pieces.
[edit]
Messages
[edit]
When Failed
Bad luck.
It's not a particularly complicated cut that's required here.
[edit]
When Completed
Nice cut!
You're exactly right.
To seal the cave, the thieves flipped one of the pieces upright as shown above.
[edit]
Solution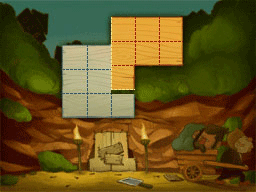 Make a cut as shown.
[edit]
Progress
3070 Picarats and 233 Hint Coins.