UF096 - The Right Button
This is the ninety sixth puzzle you will encounter in Professor Layton and the Unwound Future. To access this puzzle, you must have solved the puzzle Looking Up and watch the cut scene. In order to solve this puzzle, you must determine which button must be pressed so that, when following the directions shown, all buttons can be pushed.
[edit]
Messages
[edit]
When Failed
Oh dear.
Are you sure you haven't made a mistake somewhere?
[edit]
When Completed
Correct!
Once you realize that all the squares are leading you to the same end point, the start is easy to figure out.
[edit]
Solution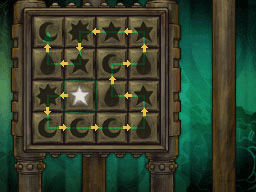 Press the button as shown.
[edit]
Progress
3250 Picarats and 242 Hint Coins.