UF097 - A Blind Escape
This is the ninety seventh puzzle you will encounter in Professor Layton and the Unwound Future. To access this puzzle, you must examine the desk. In order to solve this puzzle, you must determine the route that must be taken to reach the exit.
[edit]
Messages
[edit]
When Failed
Too bad!
Remember, you can only turn when you hit a wall.
[edit]
When Completed
Great escape!
You found the way out!
[edit]
Solution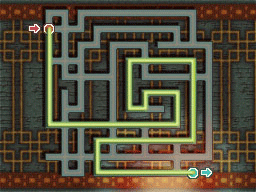 Draw the route as shown.
[edit]
Progress
3295 Picarats and 246 Hint Coins.