UF098 - Slippery Trip 3
This is the ninety eighth puzzle you will encounter in Professor Layton and the Unwound Future. To access this puzzle, you must examine the banana peel. In order to solve this puzzle, you must make it through the maze to the yellow arrow.
[edit]
Messages
[edit]
When Failed
You cannot fail this puzzle.
[edit]
When Completed
Fruitastic!
Here's something you might not know about bananas: their peels actually contain a bit of poison, though only a miniscule amount. It's probably not a good idea to eat banana peels, no matter how wasteful you might think it is to toss them.
[edit]
Solution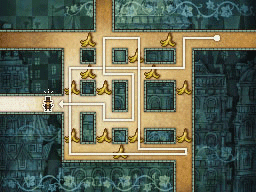 Take the route as shown.
[edit]
Progress
3345 Picarats and 249 Hint Coins.