UF099 - An Odd Invitation
This is the ninety ninth puzzle you will encounter in Professor Layton and the Unwound Future. To access this puzzle, you must talk to Dylan. In order to solve this puzzle, you must determine which house your friend lives at.
[edit]
Messages
[edit]
When Failed
Too bad!
Don't keep your friend waiting!
[edit]
When Completed
You knocked it out of the park!
Even though you don't know which "certain door" your friend is referring to, the only door from which you can move two down and two to the right is the top-left door. So the only possible location of your friend's pad is the bottom right!
[edit]
Solution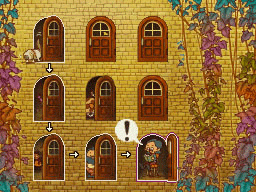 Open the door as shown.
[edit]
Progress
3365 Picarats and 249 Hint Coins.