UF101 - Shy Guys and Gals
This is the one hundred and first puzzle you will encounter in Professor Layton and the Unwound Future. To access this puzzle, you must talk to Misha. In order to solve this puzzle, you must draw paths between each couple so that they won't cross with any other path.
[edit]
Messages
[edit]
When Failed
Too bad!
The couples will never be able to meet at this rate...
[edit]
When Completed
You figured it out!
Now all the couples can meet up for their dates in peace.
[edit]
Solution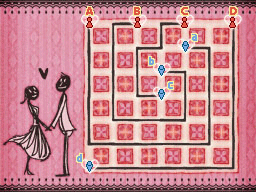 Draw the routes as shown.
[edit]
Progress
3445 Picarats and 249 Hint Coins.