UF103 - Pool Problem
This is the one hundred and third puzzle you will encounter in Professor Layton and the Unwound Future. To access this puzzle, you must talk to Hardy. In order to solve this puzzle, you must determine which three valves must be replaced to get the water flowing.
[edit]
Messages
[edit]
When Failed
Bad luck.
Remember, you can only open three valves.
Starting from the tank, trace the route that the water would take through the hosepipe.
[edit]
When Completed
Nice work!
Now you can play in the pool!
[edit]
Solution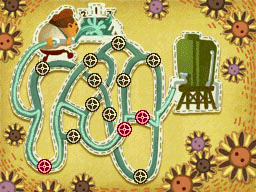 Replace the valves as shown.
[edit]
Progress
3500 Picarats and 249 Hint Coins.