UF106 - Four Stamps
This is the one hundred and sixth puzzle you will encounter in Professor Layton and the Unwound Future. To access this puzzle, you must talk to Dupree. In order to solve this puzzle, you must determine the minimum number of stamps that must be used to create a valid equation.
[edit]
Messages
[edit]
When Failed
Too bad!
Be sure to consider all possibilities.
[edit]
When Completed
Correct!
The three and five stamps are all you need! The equation can be solved by making 1 + 7 = 8, but that uses three stamps. You only need two stamps to make 3 + 5 = 8.
[edit]
Solution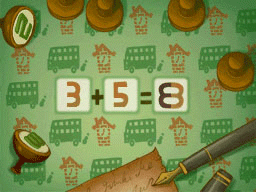 Only two stamps are needed.
[edit]
Progress
3605 Picarats and 249 Hint Coins.