UF112 - Beams and Ladders
This is the one hundred and twelfth puzzle you will encounter in Professor Layton and the Unwound Future. To access this puzzle, you must examine the underground ladder. In order to solve this puzzle, you must determine which order the white ladders will be used in to cross every beam and ladder.
[edit]
Messages
[edit]
When Failed
Too bad.
Take your time and give it some thought.
[edit]
When Completed
Correct!
Whichever route you decide to take, the ladders will be used in the same order.
The routes may all seem inefficient, but no matter which way you go, since your path can't cross, the distance traveled is exactly the same.
[edit]
Solution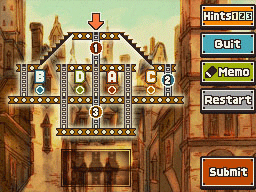 Arrange the ladders as shown.
[edit]
Progress
3970 Picarats and 263 Hint Coins.