UF113 - One Step at a Time
This is the one hundred and thirteenth puzzle you will encounter in Professor Layton and the Unwound Future. To access this puzzle, you must examine the metal shutter. In order to solve this puzzle, you must move from the green square to the red square by moving to buttons that differ by one to the current number.
[edit]
Messages
[edit]
When Failed
Too bad!
Remember, you can only move to numbers that differ by one from your current number.
Keep this simple rule in mind and give it another try.
[edit]
When Completed
Success!
You found the correct path!
[edit]
Solution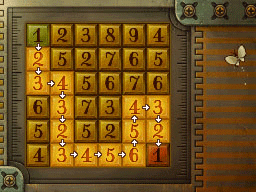 Take the path as shown.
[edit]
Progress
4015 Picarats and 266 Hint Coins.