UF114 - Roped In
This is the one hundred and fourteenth puzzle you will encounter in Professor Layton and the Unwound Future. To access this puzzle, you must examine Shmelmey and Shmarton. In order to solve this puzzle, you must rearrange the tiles so that the rope connects from Luke's scissors to the crate.
[edit]
Messages
[edit]
When Failed
Too bad.
You won't be able to proceed until those thugs are out of the way.
[edit]
When Completed
Very nice!
Now, cut that rope!
[edit]
Solution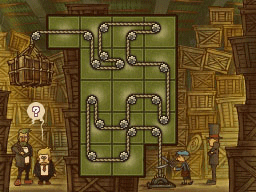 Arrange the tiles as shown.
[edit]
Progress
4075 Picarats and 269 Hint Coins.