UF115 - Hidden in Plain Sight
This is the one hundred and fifteenth puzzle you will encounter in Professor Layton and the Unwound Future. To access this puzzle, you must examine the back door. In order to solve this puzzle, you must find the hidden plus sign in the grid.
[edit]
Messages
[edit]
When Failed
Too bad.
Take another careful look at the pattern.
[edit]
When Completed
A plus!
It seems easy once you see it, but a lot of people have a hard time finding it.
[edit]
Solution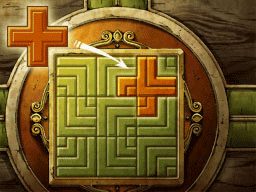 Outline the area as shown.
[edit]
Progress
4125 Picarats and 275 Hint Coins.