UF119 - Swap to Unlock
This is the one hundred and nineteenth puzzle you will encounter in Professor Layton and the Unwound Future. To access this puzzle, you must examine the door. In order to solve this puzzle, you must move and rotate the dials so that each touching gem is the same color.
[edit]
Messages
[edit]
When Failed
Too bad!
Did you make sure that all adjacent gems were the same color?
[edit]
When Completed
A gem of a solution!
Now you can continue on!
[edit]
Solution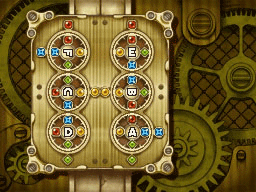 Arrange the dials as shown.
[edit]
Progress
4450 Picarats and 278 Hint Coins.