UF120 - A Cryptic Combo
This is the one hundred and twentieth puzzle you will encounter in Professor Layton and the Unwound Future. To access this puzzle, you must examine the elevator door. In order to solve this puzzle, you must determine which buttons must be pressed to unlock the door by following the instructions.
[edit]
Messages
[edit]
When Failed
Too bad!
Try thinking about it from a different angle.
[edit]
When Completed
Bingo!
The trick was to light up the buttons that together form a number two.
"Leave the four" simply meant to leave four specific buttons untouched.
[edit]
Solution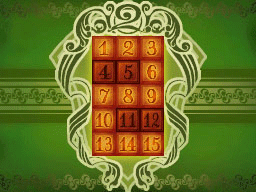 Touch the buttons as shown.
[edit]
Progress
4500 Picarats and 281 Hint Coins.