UF123 - Cat's-Eye View
This is the one hundred and twenty third puzzle you will encounter in Professor Layton and the Unwound Future. To access this puzzle, you must talk to Fisheye. In order to solve this puzzle, you must determine the maximum number of cat's-eye stones that can be placed on the field without forming a square or rectangle with them.
[edit]
Messages
[edit]
When Failed
Too bad!
It should go without saying, but the answer is fewer than 16.
[edit]
When Completed
Terrific!
No matter how you arrange the stones, the most you can place without breaking the rule is nine. The diagram above shows just one example. The difficult part is having confidence that you've found the correct answer!
[edit]
Solution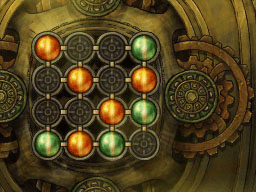 The maximum number of stones that can be placed is nine.
[edit]
Progress
4650 Picarats and 290 Hint Coins.