UF125 - Connect the Bots
This is the one hundred and twenty fifth puzzle you will encounter in Professor Layton and the Unwound Future. To access this puzzle, you must examine the monitors. In order to solve this puzzle, you must determine which room the generator room is, which is avoided by both bots.
[edit]
Messages
[edit]
When Failed
Too bad!
Take a closer look and give it another try.
[edit]
When Completed
You bot it!
Not even Clive could trick Professor Layton and company!
[edit]
Solution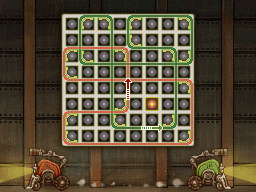 Touch the room as shown.
[edit]
Progress
4770 Picarats and 293 Hint Coins.