UF127 - A Real Heart Swapper
This is the one hundred and twenty seventh puzzle you will encounter in Professor Layton and the Unwound Future. To access this puzzle, you must examine Bill Hawks. In order to solve this puzzle, you must swap two blocks to connect the monitoring device to the pocket watch.
[edit]
Messages
[edit]
When Failed
Too bad!
Remember, you can only swap one pair of blocks.
Are you sure you didn't move more than two blocks?
[edit]
When Completed
Amazing!
You successfully swapped the devices!
[edit]
Solution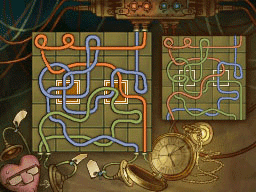 Swap the blocks as shown.
[edit]
Progress
4890 Picarats and 300 Hint Coins.