UF128 - Reverse Rotation
This is the one hundred and twenty eighth puzzle you will encounter in Professor Layton and the Unwound Future. To access this puzzle, you must examine the gears. In order to solve this puzzle, you must use the groups of gears to cause gear B to turn in the direction of the green arrow.
[edit]
Messages
[edit]
When Failed
Too bad!
You're running out of time! Hurry!
[edit]
When Completed
Wonderful!
You've reversed the energy flow in the generator!
[edit]
Solution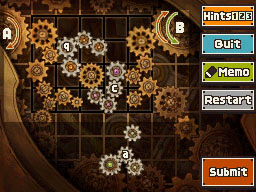 Place the gear groups as shown.
[edit]
Progress
4970 Picarats and 300 Hint Coins.