UF134 - A Question of Taste
This is the one hundred and thirty fourth puzzle you will encounter in Professor Layton and the Unwound Future. To access this puzzle, you must talk to Rosetta. In order to solve this puzzle, you must determine which item has caught Professor Layton's eye.
[edit]
Messages
[edit]
When Failed
Too bad!
Think about the things that Professor Layton loves. You know what they are, don't you?
[edit]
When Completed
Keen eye!
The answer is C.
However, did you realize that the item Professor Layton likes is actually the hanger? It's shaped like a question mark!
"Whenever I see a puzzle, Luke, I can't help but take action!"
"But, Professor...that's not a puzzle, it's a hanger!"
[edit]
Solution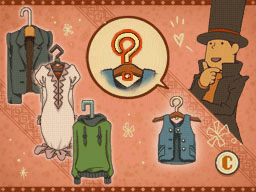 Item C has caught Professor Layton's eye.
[edit]
Progress
1540 Picarats and 160 Hint Coins.