UF135 - Four Jams
This is the one hundred and thirty fifth puzzle you will encounter in Professor Layton and the Unwound Future. To access this puzzle, you must talk to Alfie. In order to solve this puzzle, you must use the scales to determine the order of the jams from lightest to heaviest.
[edit]
Messages
[edit]
When Failed
Too bad.
There's a certain knack to knowing which boxes to weight together.
[edit]
When Completed
Sweet!
Blue > Yellow > Green > Red
Comparing the red/blue box with the red/green box shows that blue > green.
Comparing the red/blue box with the blue/green box shows that green > red.
And finding that the yellow/yellow box is equal to the blue/green box tells you that yellow is between blue and green!
[edit]
Solution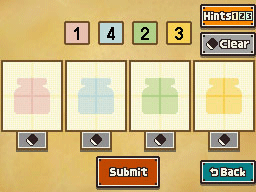 Assign the numbers to the jams as shown.
[edit]
Progress
1595 Picarats and 160 Hint Coins.