UF137 - Pieces of Chocolate
This is the one hundred and thirty seventh puzzle you will encounter in Professor Layton and the Unwound Future. To access this puzzle, you must talk to Minnie. In order to solve this puzzle, you must determine how many more 5 x 1 centimeter pieces of chocolate can be broken off the bar without including the hole.
[edit]
Messages
[edit]
When Failed
Too bad.
You need to bend your brain just a little.
[edit]
When Completed
Cocoa-rrect!
Eight more pieces is exactly right.
As shown in the image above, if you break up the left side in a way that includes the entire hole in one piece, you can exclude that one and still make eight more pieces.
[edit]
Solution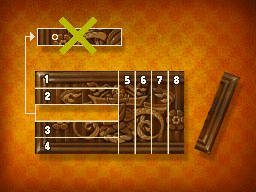 Eight more pieces can be broken off.
[edit]
Progress
1655 Picarats and 160 Hint Coins.