UF138 - Quirky Clockwork
This is the one hundred and thirty eighth puzzle you will encounter in Professor Layton and the Unwound Future. To access this puzzle, you must talk to Harold. In order to solve this puzzle, you must determine which number would be impossible to see on the clock as a date.
[edit]
Messages
[edit]
When Failed
Too bad!
Remember, this is an analog watch. Think about the type of mechanism it must use to display all the days of the month.
[edit]
When Completed
Genius!
The number displayed in example C is the correct answer.
You could see A or B as the date changed over at midnight, but there's no way the number in C would ever appear.
[edit]
Solution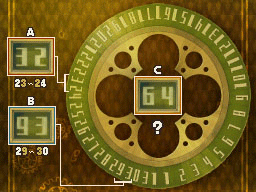 Example C is an impossible number.
[edit]
Progress
3765 Picarats and 249 Hint Coins.