UF139 - Bricks 'n' Bullion
This is the one hundred and thirty ninth puzzle you will encounter in Professor Layton and the Unwound Future. To access this puzzle, you must talk to Inspector Chelmey. In order to solve this puzzle, you must fit the gold bars into the walls without stacking larger bars on top of smaller ones.
[edit]
Messages
[edit]
When Failed
Too bad!
Did you make sure that there weren't any larger bars on top of any smaller ones?
[edit]
When Completed
Golden!
What a clever way to hide that bullion! That boss is one smart guy after all.
[edit]
Solution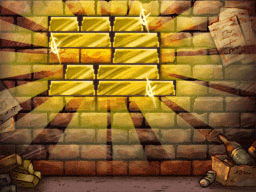 Place the gold bars as shown.
[edit]
Progress
2500 Picarats and 199 Hint Coins.