UF141 - A Roll of the Die
This is the one hundred and forty first puzzle you will encounter in Professor Layton and the Unwound Future. To access this puzzle, you must talk to Mark. In order to solve this puzzle, you must determine which image will be stamped on the final square.
[edit]
Messages
[edit]
When Failed
Too bad!
Are you thinking in three dimensions?
[edit]
When Completed
Rock 'n' roll!
The tricky part is getting the right shape to face the right direction.
[edit]
Solution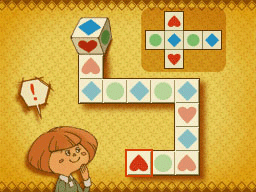 Place the shape as shown.
[edit]
Progress
3800 Picarats and 253 Hint Coins.