UF143 - Double Digits
This is the one hundred and forty third puzzle you will encounter in Professor Layton and the Unwound Future. To access this puzzle, you must talk to Art. In order to solve this puzzle, you must make one continuous cut to create two identical shapes that resemble numbers.
[edit]
Messages
[edit]
When Failed
Bad luck.
What shapes could be made from this piece of wood?
[edit]
When Completed
Correct!
As shown in the image above, you can cut the board in two pieces that look just like fours.
[edit]
Solution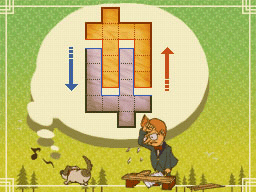 Cut the board as shown.
[edit]
Progress
3585 Picarats and 249 Hint Coins.